Some call them poppy Seed Pearls, the Japanese call them Keshi. Seed pearls are 100% Natural. There is absolutely no human intervention in their formation. Basically seed pearls are
by-products of pearl formation.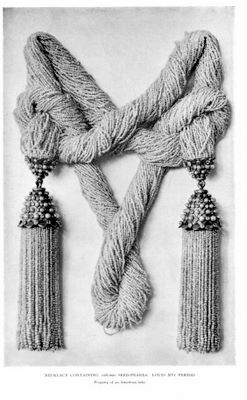 The Pearl Carpet of Baroda
(extraordinary example)
What an ostentatious piece of work!
The Pearl Carpet of Baroda was one such creation commissioned by Geakwar Khande Rao, in 1860 and completed in 1865. The Maharajah Gaekwar of Baroda Khande Rao who ruled between 1856 and 1870, was one of the most notable connoisseurs and collectors of jewels and jewelry in the history of the entire dynasty, who would have gone to any extent, despite the expenditure involved, to acquire any jewel that captured his interest in any part of the world, or create any fabulous piece of jewelry that took shape in his fertile mind, using the most highly skilled and experienced jewelry craftsmen, who had been trained in the Mughal tradition of jewelry crafting, who were at the disposal of his court.
The estimated number of pearls on the carpet:
1.1 million
. The total estimated weight of the pearls is
30,000 carats
. The total number of table-cut diamonds in the rosettes is approximately 2,520, having a total weight of around 350 to 400 carats. The number of cabochon rubies in the carpet are over 1,000 and Colombian emeralds over 600. Thank U blogger @
Jewellery India
.
Seed Pearls Rule!!!